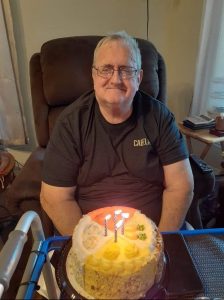 https://boxcast.tv/view/robert-salter-s17fbnsfkklgqopzt10c?_gl=1*1fyk4lb*_ga*MTMyMjg0OTA1MC4xNjkwMzAyNTk0*_ga_PXBBF7HVWQ*MTY5MDQwNTU0My4xMjcuMS4xNjkwNDA1NTU5LjAuMC4w
Robert Alan Salter was born June 10, 1953 in Council Bluffs, Iowa.
Robert grew up in Modale, Iowa with his family. He graduated high school from West Harrison and went to a trade school. He worked for the city of Logan as a water super intendant for 23 years, then in Council Bluffs for 10 years. Robert attended Logan Baptist Church and was a volunteer fire fighter in Logan for many years. Robert married Shawn MayBee on May 26th 1976 and moved to Logan, IA. They had 3 children. Robert loved to collect coins and go through them with his grandson, Dawson. He also collected mason jars and made lamps out of them with unique things inside. Robert absolutely loved to watch his westerns like Gunsmoke!
Robert leaves behind his wife, Shawn Salter of 46 years. His Children, James Salter (wife Jessica) of Okarche, Oklahoma. Carrie Montanez (husband Jake) of Ballston Spa, New York and Stacy Salter of Logan, IA. Many grandchildren including Seth, Sidra, and Sean Montanez. Dawson and Sadie Clark. Logan and Harrison Salter. Brothers Tom Salter (wife Sally) of Missouri Valley, James Salter of Persia, Donald Salter (Bobbie) of Omaha. Sisters Sheri Foster of Missouri Valley, IA, Julie Corbin (husband Rick) of Bellevue, NE, Pam Seavers (Husband Mike) of Woodbine, IA
Robert is preceded in death by mother Joyleen (Purcell) Salter and father James Robert Salter and Brother, Marty Salter of Modale.
Robert, known to many as Bob was loved by many friends and family and will be missed dearly.
Special Thank you to wife Shawn Salter, daughter Stacy Salter, and Harrison County Home & Public Health staff, for helping Bob keep his independence and remain happily in his home for the last several years. Bob is no longer in pain and may he rest in peace.
Visitation will be held 4:00p.m~7:00p.m.Tuesday July 25, 2023 at the Logan Memorial Chapel.
A luncheon will be held at the Landmark Baptist Church following the funeral service.
In Loving Memory Of
Robert Alan Salter
Born
June 10, 1953                                Council Bluffs, Iowa
Entered Into Rest
July 21, 2023                                Council Bluffs, Iowa
Funeral Service
11:00 a.m. Wednesday, July 26, 2023
Logan Memorial Chapel
Logan, Iowa
Officiating                             Pastor Randy Williams
Vocalist                                               The Rochesters
Music Selection
"In The Garden"                              "Amazing Grace"
"Beyond The Sunset"                       "Does Jesus Care"
Honorary Bearers
Boone Christo                               Craig Charbonneau
Larry Landon                                 Lee Charbonneau
Rick Charbonneau                                Gary Nordby
Final Call for Robert "Bob" Salter will be conducted by the Logan Fire Department